Ambitious, talented and looking for a PhD that really matters?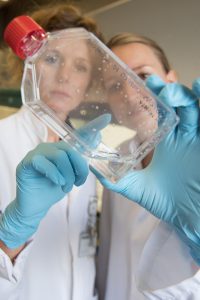 For driven and talented researchers who want to make a real difference with their research, we regularly have PhD positions available within the Brain Tumor Center.
Our focus is on translational research that has a direct influence on the diagnosis, prognosis and / or treatment of patients with a brain tumor.
The various scientific programs cover the continuum from molecular mechanistic to clinical research. By better understanding the development of brain tumors at a molecular level and using that knowledge to improve methods for diagnosis, prognosis and treatment, the Brain Tumor Center wants to contribute to a better quality of life and survival for patients with a brain tumor.
Our research lines are focused on:
Immunotherapy
Participation in large clinical trials
Identification of molecular markers (mutations) through large-scale -omics research (in particular genomics, whole genome sequencing, proteomics) and their functional significance
Development of innovative in vivo (zebrafish) and in vitro (primary cultures) tumor models
Angiogenesis
Gene therapy
Development of new medicines (drug screens)
The Brain Tumor Center is affiliated with the Molecular Medicine research school (MolMed) in theme 3 "solid tumors", sub-theme 3.6 "Neuro-oncology and pain". All PhD students within the Brain Tumor Center have free access to the many courses that MolMed organizes, the annual MolMed day (including prices for best publications), working groups, etc.
More information about our research